AMADO...MINAMAHAL...
Patalastas lang galing sa isang kaibigan na hindi dapat palampasin dahil kasama dito ang mga national artists ng bansa.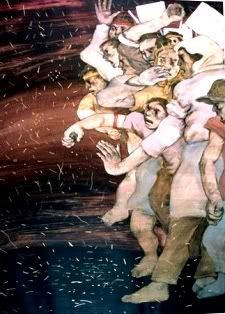 art work: Confetti, BENCAB
On November 30, 2007 (8pm), we look forward to seeing you at the Main Theater of the Cultural Center of the Philippines for an exciting evening with our National Artists and their works of artistic excellence on Ka Amado V. Hernandez, National Artist for Literature.
Amado...Minamahal
....
National Artists
Bienvenido Lumbera
(Literature),
Benedicto Cabrera
(visual Arts),
Salvador Bernal
(theater Design) and
Napoleon Abueva
(Visual Arts) collaborate with performing artists to pay tribute to Ka Amado in a night of music and dance, all inspired by the verses of the "people's poet," Amado V. Hernandez. Ka Amado's powerful imagery and metaphors incarnate as a symbolic music, modern dance and spectacle with the Philippine Philharmonic Orchestra and a hundred voice choir. Presented by the Amado V. Hernandez Resource Center to promote the work of a great Filipino artist and nationalist.
Musical compositions on Ka Amado by
Lucio San Pedro
and
Felipe de Leon
shall also be showcased.
Directed by
Chris Millado
.
for inquiries pls contact AVHRC tel no. 4120909 or 09167900671